Please see Chapter 3 Plant Kingdom Exam Questions Class 11 Biology below. These important questions with solutions have been prepared based on the latest examination guidelines and syllabus issued by CBSE, NCERT, and KVS. We have provided Class 11 Biology Exam Questions and answers for all chapters in your NCERT Book for Class 11 Biology. These solved problems for Plant Kingdom in Class 11 Biology will help you to score more marks in upcoming examinations.
Exam Questions Chapter 3 Plant Kingdom Class 11 Biology
MCQs
Question. Sphagnum provides
a. Oil
b. Peat
c. Agar
d. Antibiotics
Question. The mosses which from dense extensive mats on the soil prevents
a. Uprooting of trees
b. Soil erosion
c. Falling of leaves
d. Evaporation of water from the soil
Question. Bryophytes show
a. Asexual reproduction and zygotic meiosis immediately
b. Asexual reproduction and sporic meiosis
c. No asexual reproduction but spoiric meiosis
d. Gametophytic dominance and zygotic meiosis immediately
Question. A true moss is that
a. Which has leaf, radially symmetrical body and grows in tufts. Plant body has an axis with spirally arranged leaves
b. Which has protonema stage and multicellular rhizoids with oblique septa
c. Both a. and b.
d. Which has vascular tissues
Question. Sphagnum is also called peat moss because
a. It grows in acidic marshes and helps in peat formation
b. It is found in peat
c. It decays to form peat
d. It fossilizes quickly
Question. Which of the following is not a true moss?
a. Nest moss
b. Funaria
c. Sphagnum
d. Polytrichum
Question. In mosses gametophyte has 2 stages. What are these stages?
a. 1st stage is sporogonium phase and 2nd is protonema stage
b. 1st stage is protonema and 2nd is leafy stage
c. 1st stage is gemmae formation and 2nd is meiosis
d. 1st stage is zygote and 2nd is spore mother cell
Question. In mosses asexual reproduction occurs by
a. Fragmentation and budding in secondary protonema
b. Gemmae and adventitious bud formation
c. Gemmae and tubers formation
d. By multiflagellate spore formation
Question. Spores dispersal in mosses occurs by
a. Simple mechanism
b. Elaters
c. Elaterophores
d. Elaborate mechanism
Question. Multicellular sporophytic phase is expected in the life cycle of
a. Euglenoids
b. Green algae
c. Diatoms
d. Bryophyta
Question. A moss sperm moves by means
a. Cilia
b. 3 flagella
c. 2 flagella
d. Many flagella
Question. In alternation of generations the sporophyte generation is
a. N
b. 2N
c. Both a. and b.
d. N, N
Question. What is the importance of pteridophytes?
a. They are used for medicinal purpose
b. They are used as soil binders
c. They are frequently grown as ornamental plants
d. All
Question. Choose the incorrect statement
a. All the pteridophytes are found in cool, damp, shady places
b. Some pteridophytes may flourish well in sandy-soil conditions
c. Most of the pteridophytes are found in cool, damp, shady place
d. A very few pteridophytes are hydrophytes
Question. Plant body in pteridophyte is
a. Sporophyte(2N) having no root, stem, leaf
b. Gametophyte having root, stem and leaf
c. Gametophyte having no root, stem and leaf
d. Sporophyte having true root, stem and leaf
Question. Seed habit is linked with:
a. Homospory
b. Heterosposy
c. Parthenogenesis
d. Parthenocarpy
Question. Vascular cryptogams are:
a. Gymnosperms
b. Angiosperms
c. Bacteriods
d. Pteridophytes/Ferns
Question. Which one of the following is not common between Funaria and Selaginella?
a. Roots
b. Embryo
c. Flagellate sperms
d. Archegonium
Question. Fruits are not found in gymnosperms because:
a. They are seed less
b. They are not pollinated
c. They have no ovary
d. Fertilisation does not take place
Question. A mature pollen grain of Pinus has:
a. 2 cells
b. 3 cells
c. 4 cells
d. 5 cells
Question. In Cycas, pollination occurs at______ celled stage?
a. One
b. Two
c. Three
d. Four
Question. Flagellated male gametes are present in all the three of which one of the following sets?
a. Anthoceros, Funaria and Spirogyra
b. Zygnema, Saprolegnia and Hydrilla
c. Fucus, Marsilea and Calotropis
d. Riccia, Dryopteris and Cycas
Question. Coralloid roots of Cycas possess a symbiotic alga:
a. Anabaena
b. Spirogyra
c. Ulothrix
d. Aulosira
Question. Fern gametophyte is nutritionally:
a. Photoautotroph
b. Parasite
c. Chemoautotroph
d. Saprophyte
Question. Female cone of Pinus develops seeds in:
a. One year
b. 2-3 year
c. Two years
d. Four years
Question. Branched rhizoids and leafy gametophyes are characteristic of:
a. All bryophytes
b. Some pteriodophytes
c. All pteridophytes
d. Some bryophytes
Question. In Pinus, the male gametes are:
a. Uniciliate
b. Multiciliate
c. Biciliate
d. Non-ciliate
Question. Which one is living fossil?
a. Pinus
b. Selaginella
c. Cycas
d. Metasequoia
Question. In gymnosperms, megaspore mother cell divides meiotically to form four megaspores. Out of four megaspores, one develops into a multicellular structure termed as:
a. Female gametophyte
b. Archegonium
c. Ovule
d. Strobili
Question. Like gymnosperms, the angiosperms also exhibit:
a. Heterospory
b. Siphonogamy
c. Seed formation
d. All of these
Question. Polar nuclei fuse to produce
a. Diploid secondary nucleus
b. Zygote
c. Antipodal cells
d. Synergids
Question. Fusion product of polars is referred to as:
a. Primary endosperms
b. Secondary endosperm
c. Secondary nucleus
d. Zygote
Question. Embryo sac represents:
a. Megaspore mother cell
b. Female gametophyte
c. Megaspore
d. Microsporangium
Question. In which of the following features, Cycas resembles with angiosperms?
a. Presence of vessels
b. Circinate venation
c. Dichotomously branched leaves
d. Pollen tube is the carrier of male gametes
Question. The seed coat in both gymnosperms and angiosperms is derived from:
a. Megaspore
b. Microspore
c. Integument of megasporangium or ovule
d. Microsporangium
Question. Life cycle of gymnosperm is:
a. Haplontic
b. Haplo-diplontic
c. Diplontic
d. Diplo-haplontic
Question. The plant life cycle has both a sporophyte and a gametophyte generation. In the sporophyte stage,
a. Gametes are produced.
b. Meiosis occurs.
c. Only mitosis takes place.
d. Gametophytes form.
Question. The life cycle of Ectocarpus and Polysiphonia is:
a. Haplo-diplontic
b. Haplontic
c. Diplontic
c. Both haplontic and diplontic
Image Based Questions
Question. Select the option with correct information:
a. A and B both are homosporous
b. A and B both are heterosporous
c. A is homosporous while B is heterosporous
d. A is heterosporous while B is homosporous
Question. Select the correct statement following the diagram?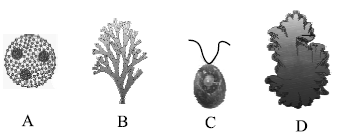 a. A and B belong to same group and have cellulose in their cell wall.
b. B and D belong to different groups and both have cellulose and pectin in their cell walls.
c. A and C belong to same group and both have chlorophyll a and b as major photosynthetic pigments.
d. C and D belong to different groups and both have starch as stored food material.
Question. Select the incorrectly labeled one
a. A – Capsule
b. B – Foot
c. C – Main axis
d. D – Rhizoids
Question. Select the option which represents labeled parts (A, B, C and D) correctly.
| | | | | |
| --- | --- | --- | --- | --- |
| | A | B | C | D |
| a. | Strobilus | Node | Branch | Internode |
| b. | Node | Branch | Internode | Strobilus |
| c. | Branch | Node | Strobilus | Internode |
| d. | Branch | Internode | Node | Strobilus |
Higher Order Questions
Question. Heterospory and seed habit are often discussed in relation to a structure called:
a. Spathe
b. Bract
c. Petiole
d. Ligule
Question. Which of the following has amphiphloic-siphonostele?
a. Rhizome of Marsilea
b. Stem of Lycopodium
c. Rhizome of Pteris
d. Stem of Equisetum
Question. The winged pollen grains are the characteristic feature of
a. Cycas
b. Ephedra
c. Pinus
d. Gnetum
Question. From the pith of stem of Cycas revoluta (sago) is obtained which is used as food article for a patient with stomach disorders because:
a. It is much tastier
b. Its nutritive value is very high
c. It is having adequate amount of starch.
d. It is a cheap food article.
Question. Brown colour of Phaeophyceae is due to excess of:
a. Fucoxanthin
b. Phycoerythrin
c. Lycopene
d. Zeaxanthin
Question. Match the columns and find out the correct combination:
| | |
| --- | --- |
| A. Apospory | 1. Development of gametophyte from sporophyte |
| B. Apogamy | 2. Development of sporophyte from gametophyte |
| C. Homosporuos Pteridophyte | 3. Selaginella |
| D. Heterosporous Pteridophyte | 4. Pteris |
a. A-2 B-4 C-2 D-1
b. A-1 B-3 C-4 D-2
c. A-1 B-2 C-4 D-3
d. A-1 B-2 C-3 D-4
Question. Match the columns and find out the correct combination:
| | |
| --- | --- |
| A. Protonema | 1. Cedrus |
| B. Prothallus | 2. Dryopteris |
| C. Naked seeded | 3. Cocos |
| D. Triple fusion | 4. Sphagnum |
a. A-4 B-1 C-2 D-3
b. A-4 B-2 C-1 D-3
c. A-4 B-2 C-3 D-1
d. A-2 B-4 C-1 D-3
Question. Match the columns and find out the correct combination:
| | |
| --- | --- |
| A. Polytrichum | 1. Lycopsida |
| B. Selaginella | 2. Sphenopsida |
| C. Equisetum | 3. Moss |
| D. Adiantum | 4. Pteropsida |
a. A-3 B-1 C-2 D-4
b. A-3 B-2 C-1 D-4
c. A-3 B-1 C-4 D-2
d. A-2 B-1 C-4 D-3
Question. Incorrect statement are:
A. Since mosses form dense mats on the soil, they reduce the impact of falling rain and prevent soil erosion.
B. The plant body of bryophytes is more differentiated than that of algae, it is thallus like and prostrate or erect, and attached to the substratum by unicellular or multicellular rhizoids.
C. Many species of Spirogyra, Vaucheria and Chara are among the 70 species of marine algae used as food.
D. Majority of the red algae are marine with greater concentrations found in the warmer areas.
E. The common phaeophytes are Polysiphonia, Porphyra, Gracilaria and Gelidium.
F. Bryophytes and pteridophytes, interestingly, exhibit an intermediate condition of life cycle (Haplodiplontic), in which both phases are multicellular but they diffuse in their dominant phases.
a. C and E
b. A, B and F
c. B, C and F
d. B and D
Question. Select incorrect statement with respect to Cycas female sex organ.
a. Female sex organ is female cone.
b. Megasporophyll is laterally placed at the tip of plant.
c. Ovules are arranged laterally in notches of megasporophyll.
d. Ovules are not surrounded by ovary wall.