Worksheets for Class 1 have been designed as per the latest pattern for CBSE, NCERT, and KVS. Students are always suggested to solve printable worksheets for grade 1 as they can be really helpful to clear their concepts and improve problem-solving skills.
We at worksheetsbag.com have provided here free PDF worksheets for students in standard 1 so that you can easily take print of these test sheets and use them daily for practice.
All worksheets are easy to download and have been designed by teachers for benefit of students and are available for free download.
Worksheet Class 1 for All Subjects Free PDF
We have provided subject-wise worksheets for class 1 which the students can download in Pdf format for free. This is the best collection of standard 1th worksheets with important questions and answers for each grade 1th subject and its chapters for that the students are able to properly practice and gain more marks in Class 1 class tests and exams.
Subject-wise Class 1 Worksheets Pdf Download
Class 1st Maths worksheet
This will help students in learning and practicing mathematics with our free pdf worksheet for Class 1 Maths. Use it to enhance your skill and understanding of addition and subtraction.
This printable 1st-grade math worksheet will help students to practice strategies for learning mathematics. Make use of this mathematics worksheet for class 1 to enhance student's understanding of addition and subtraction
This is the most interesting and fun method to show children how to do addition, multiplication, division, and subtraction of the numbers
CBSE Class 1 English worksheets
No doubt, worksheets are one of the best resources and the most interesting method to strengthen children's skills and understanding capabilities. worksheets contain direct objective questions instead of giving too many sentences. These English Worksheets class 1 are given in the form of crossword, puzzles, word scramble, and other kinds.
These English Grammar Worksheets for Grade 1 are proved to be very helpful for children. They appeal to children quite easily. These English Worksheets are designed by our expert to educate children in a fun way.
You can easily access the English worksheet for grade 1 PDF through the link given above. These English worksheets class 1 designed for children composed the perfect combination of learning and enjoyment These worksheets for class 1 in English are simply designed so that children can easily understand the concepts of the English language.
Worksheets for Grade 1 EVS
Worksheets for class 1 EVS have been made up in such a way that it enhances the desire to know more about their surroundings .Eventually it will result in better understanding of their environment .These EVS worksheets for Grade 1 are a great combination of learning and enjoyment.children will find most appropriate and amazing puzzles and activities for your kids here.
You can easily access the Download Worksheet for class 1 EVS PDF for free. Worksheets will have many topics related to the environmental studies for grade 1-body parts,clothes,animal,different type of plant,food etc
In this worksheet for grade EVS , puzzles is in the form of pictures, crosswords,mazes, true-false,fill-ups, matching exercise, etc.
Benefits of Free CBSE Worksheets for Class 1
You can improve your understanding of your concepts if you solve NCERT Class 1 Worksheet,
These CBSE worksheets can help you to understand the pattern of questions expected in exams.
All worksheets of NCERT have been organized in a manner to allow easy download in PDF format
Parents will be easily able to understand the worksheets and give them to kids to solve
Will help you to quickly revise all chapters of Class 1 textbook
CBSE Class 1 Workbook will surely help to improve knowledge of this subject
Helps you improve your hand-writing
Practice Diagrams and shades.
Workbooks are always the best source for the students to do practice, identify mistakes, areas of improvement and finally get good marks in examinations.
Students should download these in pdf for all the subjects and practice, on a regular basis to score good marks in class tests, school examinations and even in board exams.
These Printable workbooks for class 1 are available for free download. As the teachers have done extensive research for all topics and have then made these worksheets for you so that you can use them for your benefit and have also provided them to you for each chapter in your ebook.
When kids make the jump from Lower-grade to first grade, Moving from one grade to another not only promotes but increases the load on kids. Sure, first-graders still get to have fun, but not at the rate they did in Lower-Grade.
This is because in 1st class kid is introduces to various new subjects and concepts. In a very sophisticated and disciplined classroom.
The Chapter-wise question bank and revision worksheets can be accessed free and anywhere. Go ahead and click on the links above to download the free Worksheets for 1st class PDF (Free download).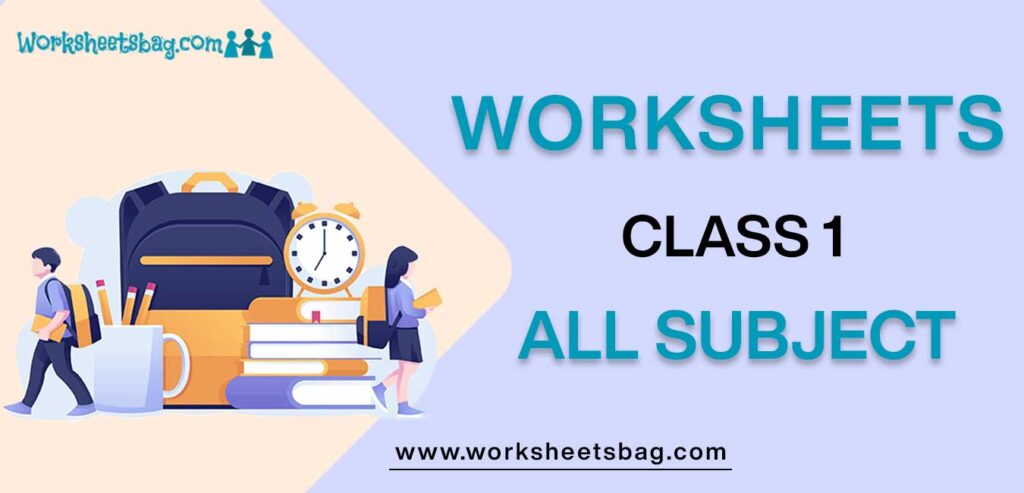 Where can I get Worksheets for Class 1 ?
You can download free worksheets for Class 1 from https://www.worksheetsbag.com
I want free printable worksheets with questions and answers for Standard 1, where can I get them?
You can get free PDF downloadable worksheets for Grade 1 from our website which has been developed by teachers after doing extensive research in each topic.
Can I get worksheets and question banks for other subjects in Class 1?
On our website we have provided worksheets for all subjects in Grade 1, all topic wise test sheets have been provided in a logical manner so that you can scroll through the topics and download the worksheet that you want.
I want practice worksheets for all topics in my Class 1 Textbook, where can I get it?
You can easily get question banks, topic wise notes and questions and other useful study material from https://www.worksheetsbag.com without any charge
Are all worksheets available for free and in PDF format?
Yes all test papers for Class 1 are available for free, no charge has been put so that the students can benefit from it. And offcourse all is available for download in PDF format and with a single click you can download all worksheets.
What is the best website to download free worksheets for Class 1 to Class 12 for all subjects?
https://www.worksheetsbag.com is the best portal to download all worksheets for all classes without any charges.
CBSE Workbooks contains all the important questions on Maths, English, Hindi, Moral Science, Social Science, General Knowledge, Computers, and Environmental Studies as per the CBSE syllabus.
Workbooks for Grade 1 include all the Questions from your Practice Tests, Assignments, Exercises of your NCERT Textbooks. Kids are advised to solve the 1st Std CBSE Workbooks PDF as many times as possible to attempt the exams with confidence.
To make this easier for you. We have listed all class 1 subjects quick links above. You can just click on the respective subject link and get full access to the study material for free.
All our workbooks are designed for helping students to understand various topics, practice skills, and improve their subject knowledge which in turn helps students to improve their academic performance.
Hope we were able to help you in your preparation. If you think something is missing please let us know below in the comment section and we will work on it. Stay in touch with our site to avail latest updates.
If you are a parent, you can give the worksheets for your kids to work on the various areas by downloading worksheets for drawing, cross-word exercises, matching words and much more to boost their talent. Doing proper practices from the primary school time will increase the brain efficiency to a higher extent.
Working on CBSE workbooks will be a great help to secure good marks in the examination. So practicing these will promote student's problem-solving skills and subject knowledge in an interactive method.
Click here — if you need NCERT Books for class 1 for free