Worksheets for Class 2 Maths have been designed as per the latest pattern for CBSE, NCERT, and KVS for class 2. Students are always suggested to solve printable worksheets for Mathematics Grade 2 as they can be really helpful to clear their concepts and improve problem-solving skills. We at worksheetsbag.com have provided here free PDF worksheets for students in standard 2 so that you can easily take print of these test sheets and use them daily for practice. All worksheets are easy to download and have been designed by teachers of Class 2 for benefit of students and is available for free download.
Mathematics Worksheets for Class 2
We have provided chapter-wise worksheets for class 2 Mathematics which the students can download in Pdf format for free. This is the best collection of Mathematics standard 2th worksheets with important questions and answers for each grade 2th Mathematics chapter so that the students are able to properly practice and gain more marks in Class 2 Mathematics class tests and exams.
Chapter-wise Class 2 Mathematics Worksheets Pdf Download
Math worksheets for class 2 contain every one of the topics that go under the CBSE syllabus. For certain students, math can be a bit hard because the child may find the topic difficult to understand. However, it doesn't need to be that way if concepts are clarified in a colorful and creative way to such an extent that it catches the kid's creative mind.
For some students, learning from textbooks is not enough. This could mean the distinction between your kid enjoying or detesting math later on and subsequently affecting their marks in tests. So to avoid that teachers and parents must start implanting the habit of making kids practice maths without any force. Also, as an additional advantage, mathematics makes the brain sharp, which indicates it ensures mental skills. Subsequently, it is important that you give the kid however much practice as could reasonably be expected. For this, maths worksheets for class 2 can be amazingly valuable.
Maths is additionally at the center of practically all higher science and business-related fields. From essential math tasks to more complicated topics like polynomial math, it is important that your children understand the basics. So you ought not to overlook the signs when your kid thinks that it's hard to understand the subject. Assist them with learning and comprehend through our short and simple to appreciate worksheets. We target encouraging the essentials of all math-related subjects through our Maths Worksheet for class 2.
We all know that children have rough thoughts of these concepts. However, it is always better to practice and study. Important topics to be covered include counting numbers, odd and even numbers, subtraction, addition, multiplication, and division, etc. These are the basics of maths and they assist to stimulate thinking.
In the end, these Maths worksheets for grade 2 can assist the children to comprehend he basics mathematical concept and apply logical thinking under certain conditions.It is also helpful to have grade 2 maths worksheets pdf to assist the students to prepare additional question related to class 2 math syllabus.For more help on math practicing stay tuned with worksheetsbag and download Math worksheet for grade 2 pdf free of charge.
These worksheets are complete collection of free printable mathematics worksheets for grade 2,classified by topics, mental math, addition, subtraction, money geometry, clock , place value,regrouping and multiplication.They are randomly produced, printable from your device,and also have the answer key.
The worksheets are randomly created each time you click on the link below.you can also get another, distinctive one just by reloading the page in your device.
You can print them straightforwardly from your program window, however first you need to check what it looks like in the "Print Preview". In some cases,if the worksheet doesn't fit the page, change the edges, header, and footer in the Page Setup settings of your browser. Another alternative is to change the "scale" to 95% or 90% in the Print Preview. A few browsers and printers have the "Print to fit" option, which you do not need to ,it will automatically scale the worksheet to fit the printable.
Worksheets for Class 2 Maths as per CBSE NCERT pattern
Parents and students are welcome to download as many worksheets as they want as we have provided them all free. As you can see we have covered all topics which are there in your Class 2 Maths book designed as per CBSE, NCERT, and KVS syllabus and examination pattern.
These test papers have been used in various schools and have helped students to practice and improve their grades in school and have also helped them to appear in other school-level exams. You can take printouts of these chapter wise test sheets having questions relating to each topic and practice them daily so that you can thoroughly understand each concept and get better marks.
As Maths for Class 2 is a very scoring subject, if you download and do these questions and answers on daily basis, this will help you to become a master in this subject.
Benefits of Free Worksheets for CBSE Class 2 Maths
You can improve your understanding of your concepts if you solve NCERT Class 2 Maths Worksheet,
These CBSE Class 2 Mathematics worksheets can help you to understand the pattern of questions expected in Mathematics exams.
All worksheets for Mathematics Class 2 for NCERT have been organized in a manner to allow easy download in PDF format
Parents will be easily able to understand the worksheets and give them to kids to solve
Will help you to quickly revise all chapters of Class 2 Mathematics textbook
CBSE Class 2 Mathematics Workbook will surely help to improve knowledge of this subject
These Printable practice worksheets are available for free download for Class 2 Mathematics. As the teachers have done extensive research for all topics and have then made these worksheets for you so that you can use them for your benefit and have also provided to you for each chapter in your ebook.
The Chapter wise question bank and revision worksheets can be accessed free and anywhere. Go ahead and click on the links above to download free CBSE Class 2 Mathematics Worksheets PDF.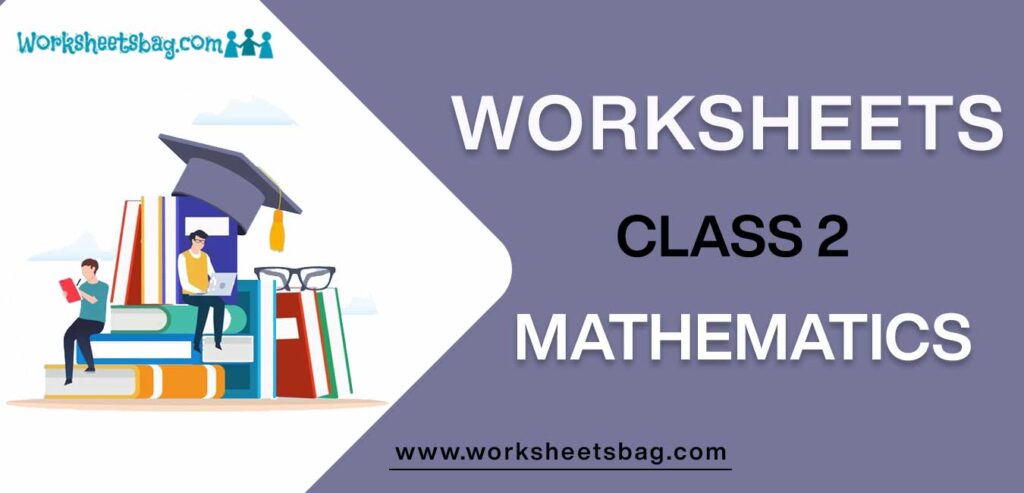 Where can I get Worksheets for Class 2 Maths ?
You can download free worksheets for Class 2 Maths from https://www.worksheetsbag.com
I want free printable worksheets with questions and answers for Mathematics for Standard 2, where can I get them?
You can get free PDF downloadable worksheets for Grade 2 Mathematics from our website which has been developed by teachers after doing extensive research on each topic.
Can I get worksheets and question banks for other subjects in Class 2 ?
On our website we have provided worksheets for all subjects in Grade 2, all topic wise test sheets have been provided in a logical manner so that you can scroll through the topics and download the worksheet that you want.
I want practice worksheets for all topics in my Class 2 Mathematics Textbook, where can I get it?
You can easily get question banks, topic wise notes and questions and other useful study material from https://www.worksheetsbag.com without any charge
Are all worksheets available for free and in PDF format?
Yes all test papers for Mathematics Class 2 are available for free, no charge has been put so that the students can benefit from it. And offcourse all is available for download in PDF format and with a single click you can download all worksheets.
What is the best website to download free worksheets for Class 1 to Class 12 for all subjects?
https://www.worksheetsbag.com is the best portal to download all worksheets for all classes without any charges.